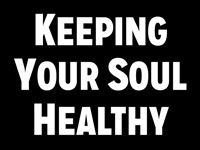 How do you live in victory after your soul has been healed? Everything that has life was created for a purpose, and if we follow the blueprint for our lives as human beings, we will be greatly blessed. After salvation and deliverance, it is important to draw up a plan for your life and set priorities. We will examine how to set priorities according to the Bible, and once you have established a goal in life, how to accomplish it on a daily basis.
The body and its brain is not the real you; it is merely the vehicle your soul is using on earth. The real you is the soul that resides inside your physical body. When we leave this earth, we are stepping out of our physical body and entering the spirit realm in which our soul was created to forever live. The maximum time on earth for the physical body to exist is 120 years, and comparatively short time as opposed to life in eternity where a trillion years is just a drop in the bucket.
I am preparing myself mentally and physically to make sure that when I leave this earth, I will have used all my talents for God to the maximum potential. Abraham became a visionary after he surrendered his life to God and began seeking a city and a country that was going to be his eternal home. He never laid up treasures on earth; instead, he invested his time and earthly possessions in the Kingdom of God. Abraham has resided with God for the last 3,500 years and lived in luxury that cannot be compared to anything on earth.
Are you looking for that same city? Are you excited about reaching the city of God? If so, you need to make plans while youíre still on earth and join the millions of people who made Christ their Lord and Savior before itís too late. It is important to be in Godís will because your soul will stay healthy and it will prosper without limitations.
Print out the sermon outline and let's examine the Scriptures this Sunday morning at 9:00 AM PST.

Yours in Christ,

Pastor John S. Torell

---