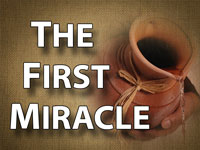 Last week I laid the foundation for authenticity of the four Gospels and this week letís begin by examining the written account of Jesusí first miracle as found in the Gospel of John. The miracle takes place at a wedding to which Jesus and His disciples were invited. Mary, the mother of Jesus was also present and spoke as a concerned individual who was interested in the welfare of the wedding guests. She knew if the wine was to run out, it would ruin the wedding feast for the guests and leave a bad memory of this special occasion.
Jesus didnít necessarily want to reveal His supernatural power at this time and told His mother that His hour had not yet arrived, meaning it wasnít time for Him to get started in His earthly ministry, but Mary overruled her Sonís feelings by instructing the servants at the wedding to follow through with whatever Jesus told them to do. Jesus honored His mother and directed the servants to fill six pots (about 135 gallons) with water. The water was miraculously turned to wine and the master of ceremonies for the wedding was astonished when he tasted the newly made wine.
Distilling alcohol and increasing its potency was not known at that time and the wine Jesus created was basically a sour fermented wine that kept the bacteria away. In this weekís message, I am not advocating the consumption or abstention of alcohol, that is not the purpose of this message, but to examine the miracle Jesus performed. What is important is that Jesus supernaturally changed water into a beverage that kept the wedding feast running smoothly.
What can we learn from this miracle? Nothing is impossible with God! Jesus operated under the spiritual law of the spoken word, which incidentally is still in effect today. Jesus never performed a miracle unless there was a need and the same should hold true for today. Jesus told the disciples that they and their disciples would do greater miracles than Jesus had done because He was sending the Holy Spirit to empower us. Why are we not seeing more miracles today? How can we effect that change in our personal lives? It is my hope that this message will provide the answers you are seeking!
Print out the sermon outline and let's examine the Scriptures this Sunday morning at 9:00 AM PST.

Yours in Christ,

Pastor John S. Torell
---