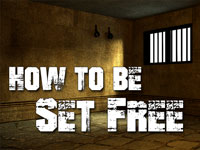 Proponents of the Lesbian-Gay-Bisexual-Transgender (LGBT) lifestyle say they canít help that they are born with a same sex attraction. Many of them have compelling testimonies as to why they live the LGBT lifestyle. Conversely, the Bible says that homosexuality is a choice and condemns the lifestyle as an abomination. Who are we to believe? Do we take the word of mankind or believe the Word of God?
When dealing with homosexuality, the answer from a Christian perspective is not popular with those who embrace it as an alternative lifestyle. Christians see it no different than lying, stealing, idolatry, adultery or murder. It seems that there is not much common ground. How are Christians supposed to be relevant in todayís society regarding this issue without compromising their beliefs?
The people in Sodom and Gomorrah made the choice to embrace a homosexual lifestyle. They elected leaders who held the same moral view and the result was a society that was so evil that God would not allow them to live in rebellion and executed every man, woman and child. But was that really necessary?
You and I make choices every day regarding what to eat, where to go, what to say, etc. God has set up physical and spiritual laws and it is up to mankind to decide what to do with them. There are consequences for every action you and I make, and when we choose to break Godís physical and spiritual laws, why would God behave in a manner that is not consistent with His character?
Any LGBT person seeking the Lord must ask themselves the following question: Is homosexuality a sin? If it isnít, they will continue to live in that rebellious lifestyle and will not seek change because they donít see a need for it.
However, there is hope if a LGBT person can readily identify and agree that God abhors the practice. The next step involves identifying where this counterfeit lifestyle originated and ridding yourself of the demons who have convinced you of its reality. These evil spirits cannot be removed through counseling; they must be cast out in the name of Jesus!
After you have been delivered from the demonic forces, it is time for you to change your lifestyle and the Bible provides ample instruction on how to accomplish that task.
As I previously stated, this message is not popular or politically correct, and it will even be misconstrued by some as hate, but the truth of Godís word does not change. Christians must be willing to stand up for the truth or face the consequences of our inaction.
If you or someone you know is struggling with homosexuality, please watch the webcast as we examine the Word of God together.
Print out the sermon outline and let's examine the Scriptures this Sunday morning at 9:00 AM PST.

Yours in Christ,

Pastor John S. Torell

---