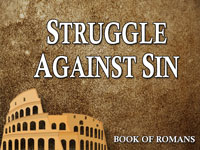 In reading through the book of Romans, Paul can sometimes be difficult to understand and this is the case with the seventh chapter. It takes prayer, logic and the Holy Spirit to interpret the message given to Paul. Many Christians over the centuries have looked upon Paul like a super believer that never had a doubt in his life, but the truth is that he was just a man, saved by grace, who struggled with sin at times. Fortunately, in confessing his struggles, Paul also provides a solution.
In previous messages I have pointed out that there were three sets of laws given to mankind. The first set was given to Adam, among it was the universal death sentence upon humanity called the Law of Death. The second set given to Noah was a revision and an add-on to the original set. The final set that most people are familiar with was given to Moses. It is also known as the "Torah" or the "five books of Moses."
Paul speaks about the Law of Death and the Torah, and in describing our freedom from death, he uses the illustration of a woman who is married to a man. As long as the husband is alive, the wife is bound to him, but when the husband dies, the woman is free to marry someone else.
When Jesus offered His body and blood on the cross, He paid for the sins of mankind and made it possible for humanity to be saved and set free from the Law of Death. That doesn't mean the Torah is set aside. On the contrary, the laws of Moses are still in effect with the exception of the sacrificial laws. Keeping the Torah laws never saved anyone, but it pleases God the Father when we keep them. These laws were not given for our benefit. The Law of Moses defines sin and Paul declares that it is good because it reveals our sinful condition.
Paul closes the chapter by addressing his personal struggles. Everyone has to deal with sin; it is a daily battle that must be overcome by the born again spirit because the soul and physical body only want to indulge their selfish desires. The good news is that Jesus Christ can deliver you from sin! Please join me this week as we continue through the book of Romans and correctly discern Paul's message given by inspiration of the Holy Spirit.
Print out the sermon outline and let's examine the Scriptures together Sunday morning at 9:00 AM PST.

Yours in Christ,

Pastor John S. Torell
---