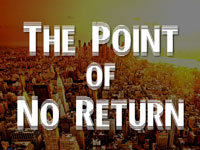 Many times we tend to contemplate how God wants to bless us with spiritual gifts but never get around to asking what Jesus desires of us. We live in a society that embraces the sinful nature of looking out for #1 (me). Holiness is something we should strive after but the Lord is primarily seeking those who will walk in obedience to His commands. So how do we please our Savior? Fortunately, the Bible provides numerous examples of men and women who interacted with the Lord. All we need to do is examine their records to find out how God thinks because the Scriptures say that Jesus will exhibit the same behavior yesterday, today and even into the future.
This week we will study four examples of how Jesus dealt with disobedience in the past when it came to Adam and Eve; Moses and Aaron; King Saul and King David. The common denominator among them all was that they were punished for their disobedience. God didn't politely ask for obedience – He demanded it – and there were grave consequences to rebellion. Nowadays, there is a lot of talk about grace in the New Testament church and surprisingly we find the practice of unmerited favor in the Old Testament as well.
How do you view grace? Are you a recipient of unmerited favor? How much grace has been extended to you? Do you have a tendency of getting as close as possible to the proverbial line before you back off and avoid punishment? Are you attempting to serve the Lord and obey Him in every situation? These are but a few questions we should be asking ourselves. I'm sure you're familiar with the expression, "If it wasn't for the grace of God…," well, we have all experienced the grace of God but there also comes a time of judgment for every human being. I would invite you to join me this Sunday as we discover how you can unselfishly give to Jesus rather than continually asking what Jesus can do for you.
Print out the sermon outline and let's examine the Scriptures this Sunday morning at 9:00 AM PST.

Yours in Christ,

Pastor John S. Torell
---