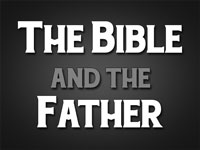 I have heard preachers say in passing that Jesus never wrote a book or letter to which we can refer. This lead me to think about how God the Father communicated with man in the past and how the Bible came into being. Some liberal church leaders have stated over the years that Jesus was an uneducated man and that is why He did not leave any written material behind. This claim is absurd because the New Testament records that Jesus could read and write. So why did Jesus neglect the important task of writing down the doctrine for His church? To answer that question, we will examine the Old Testament and how God spoke in times past and the people that were responsible for writing it down.
As I pursued this study, it was brought to mind that God only wrote doctrinal instruction in one specific instance, never to be repeated again. God did not trust man to record the Ten Commandments on stone tablets which eventually has become the centerpiece of all law in all nations which follow the Lord. The Holy Spirit moved upon men of God throughout the rest of the Bible to faithfully record what the Holy Spirit dictated to them. In His farewell prayer, Jesus spoke to the disciples about His relationship and their relationship to the Father and how the Holy Spirit would guide them once Jesus left the earth.
This is an important message because it establishes the fact that God the Father is watching over the written words in the Bible. These written words will never be changed regardless of what man tries to do with it.
Print out the sermon outline and let's examine the Scriptures this Sunday morning at 9:00 AM PST.

Yours in Christ,

Pastor John S. Torell

---