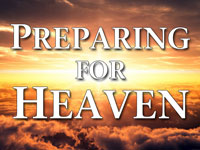 As a preacher of the Gospel I am responsible to my Lord Jesus Christ. According to the apostle Paul, a preacher is to preach the word; be instant in season, out of season; reprove, rebuke, exhort with all longsuffering and doctrine. Since most pastors depend upon the tithes from the congregation, Iím sure it is a great temptation to focus only on positive messages that will make them feel good and motivated to give more money. So when a minister like Joel Osteen refuses to take a stand on a biblical issue by telling people he is only called to lift up and comfort people, he has in fact placed himself outside the calling of God and catering to their fleshly lusts. While we are saved by grace, Jesus also said He will hold us responsible for the lives we live after we have been saved. This is not what most Christians want to hear. They like to hear about grace, love and how God is waiting to shower them with riches and blessings.
The Bible speaks about three places of correction. The first place is hell, which is Godís temporary jail where unbelievers are held after death until they are judged at the Great White Throne Judgment. The second place is the Lake of Fire and serves as God's prison for the unsaved where they will spend eternity paying for their sins and rejection of Jesus on earth. Most preachers donít like to talk about a third place of correction that is only for believers. Unlike the Lake of Fire, this place is not eternal and only exists until the last believer has paid the debt he refused to put under the blood of Jesus while on earth.
Using the Bible, I will detail what will happen at the Judgment Seat of Christ. God wants the best for you and me and has given instructions of what He expects us to do. There are great blessings if you respond to the Gospel and grave consequences if you harden your heart and reject Jesus as the Messiah. Any minister who warns his flock and devotedly teaches them to walk with God truly loves his congregation. Can the same be said for a pastor that fears the people? What will his parishioners say at the Judgment Seat of Christ? Wonít they curse him for failing to warn them? They hold him at fault for failing to lead them into a holy lifestyle. This message is my expression of love to you so that you can excel in life and eternity.
Yours in Christ,
Pastor John S. Torell
---