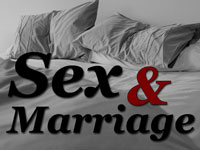 Iím sure you know that sex is the driving force in all advertisements today. All the sexualized advertisements are hard to miss. When was the last time you saw an old wrinkled woman making a pitch for a product? Even the products marketed to older people and feature actresses and actors on the older side still employ sex appeal. The subliminal message is that if you buy a particular product, it will help increase your sex appeal.
What is the Christian view of sex? God is obviously for it when it comes to procreation but what about the pleasure aspect? Does God encourage sexual intercourse purely for physical enjoyment? Absolutely! A husband and wife are free to enjoy sexual pleasure without shame and reservation. But the world would like to introduce many things to the bedroom that displeases the Lord and a Christian couple shouldnít need the filth of the world in their relationship; instead, they should spend time reading the Bible and praying before engaging in sexual intercourse. We routinely ask the Lord to bless our food and lot of other endeavors, so not ask God to bless the sexual aspect as well?
A sexual relationship between a husband and wife should be born out of their compassion for each other but it is also easy to become bogged down with children and different activities so that they donít have time for each other. A couple needs to plan out quality time and show affection on a daily basis. Speaking kind words, giving lots of hugs and bestowing kisses in front of children is good for two reasons. First, it teaches the children how to treat their spouses once they are married, and secondly, it builds a deep love in the husband and wife for each other. This means that when they engage in sexual intercourse, they are emotionally ready to give and receive love.
God told mankind to be fruitful and multiply but He did not specify the number of children; that is something that is left up to each couple. The sperm from a man and an egg from a woman do not constitute life by themselves; however, there is life once they are united and God adds a soul to the mix and the result is a human being. It is possible for a husband and wife to engage in sexual intercourse for pleasure without procreating through the use of birth control. Birth control methods include barrier methods, hormonal birth control, sterilization and behavioral methods. Pastor John speaks about the pros and cons about using a birth control method.
Life changes dramatically when the first baby is born and there is more change with each subsequent child. The parents lives revolve around their children for the next 20 years but what happens after they grow up and move out on their own? The couple will need to get to know each other again and pick up where they left off before the first baby. This should be the second honeymoon but most couples drift apart at this time and many relationships end in divorce because they canít cope being alone with the spouse who is familiar and yet seems like a stranger.
Few couples enter marriage with the mindset of loving and pleasing each other. The way that people are brought up is that a husband is looking for ways the wife can make him happy and he is not necessarily thinking about her needs. The wifeís mindset is about the same and there is only going to be strife and misery when two selfish people get married and try to revolve a relationship around a physical act. When a man loves his wife like Christ loves the church and the wife reveres and respects her husband, their sex life will be heaven on earth! I hope you will join me this week for this interesting but often hushed topic.
Print out the sermon outline and let's examine the Scriptures together Sunday morning at 9:00 AM PST.

Yours in Christ,

Pastor John S. Torell
---