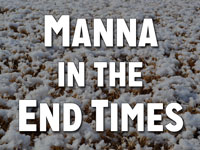 I don't think I have never seen a Christian book written about life for a Christian during the reign of the Antichrist. Of course there have been a number of movies and books about the rapture and the terrible plight of the unsaved people left behind.
The mentality of most evangelical and Pentecostal Christians is that they won't be on the earth during the reign of the Antichrist because of the rapture. The reasoning would be, "Why prepare for an event that won't affect them? After all, they will be raptured away and won't have to face this terrible time." This has to be the biggest lie Satan has produced since the day he told Eve that she would not die if she ate of the tree of knowledge of good and evil. I am a Full Gospel preacher who does not believe there will be a rapture (catching away) prior to the coming of the Antichrist. I have an urgency from the Holy Ghost to prepare Christians to live and survive during this awful time on the earth.
In this message we will examine the length of the Antichrist's reign. I can tell you right now that the seven year period that you have been told is simply not true. That number does not exist in the Bible; it is a man-made construct based upon speculation. Based upon what Jesus said, the time period is much longer than seven years.
We are also going to examine how Christians can survive during this time. There is only one way to make it and that is to live in the supernatural power of God. This is not merely an untested theory. God kept and fed more than 3 million Israelites in the wilderness for a period of 40 years. Water, food, clothing, healing and protection were extended to them; all the people had to do was to believe and do what God told them to do.
I got excited when I thought and prayed about this sermon. Living in the end times isn't going to be easy. You must be saved and baptized in the Holy Spirit to complete this journey. It will be like walking on water. Peter did great until fear gripped him and he sank. But the good news was that Jesus was close by and put him back in the boat. I am sure this message will challenge and stretch your faith.
Print out the sermon outline and let's examine the Scriptures this Sunday morning at 9:00 AM PST.
Yours in Christ,
Pastor John S. Torell
---