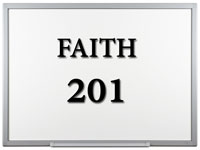 Faith is a substance that we cannot see but people use it every day. Think about it for a moment. You have faith when you approach a chair and sit down that it will not collapse. You also have faith that when you stick the key into the ignition of the car that it will start. You are exercising faith when you walk up to the faucet in the kitchen with a glass in your hand. In all these situations, you are exercising faith for a certain expectation. Think about it, every human being uses faith on a daily basis even if they donít believe in God.
Something strange happens though when many Christians read the Bible. They begin to lose faith in God because the situation looks impossible. If youíre feeling this way, I can assure you there have been plenty of people before you that felt the same way and this week we will examine what they went through and how God solved the problem.
In this message we are going to see that Abel, one of the earliest inhabitants, was saved by faith. Enoch walked with God in faith during a horrible time on earth. Noah had faith in God, and through his actions, he and his family were saved. Abraham left his family business and struck out for the great unknown on his own. Sarah believed that God would honor His promise of giving her a son and kept making love to Abraham even into her late 80ís.
It was faith that moved all the people in the bloodline of Jesus to do what they needed to do. They didnít know it but their cumulative actions served to bring forth the Messiah. You too are important in the kingdom of God and this week I want to share how you can express faith in your daily life. Do you have faith to believe that God loves you, that He desires to forgive you when you repent and that He will save anyone who comes to Him? Do you have faith to believe there is healing for you and that God will take care of all your needs? I hope that you will join me this week for the great subject of faith.
Print out the sermon outline and let's examine the Scriptures together Sunday morning at 9:00 AM PST.

Yours in Christ,

Pastor John S. Torell
---