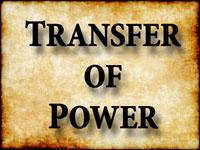 It is rare for a charismatic leader to transfer power to a successor. In this message we are going to examine the power transfer from Moses to Joshua. In studying the life of Joshua, there are only a few references which provide details about his personal life. One thing that immediately stands out is the fact that Joshua suddenly became a personal assistant to Moses around 30 years of age. Joshua had the following qualifications:
He caught the vision that God had given to Moses.

He was determined to do all he could to make it come to pass.

He had faith in God.

Joshua remained loyal until Moses was taken home by God.
It is unclear why Joshua was selected since he was from the tribe of Ephraim and Moses was from the tribe of Levi. Ephraim was not considered a high ranking tribe by the children of Israel. Nevertheless, Joshua was a tribal leader, and when the time came to spy out the Promised Land, he was selected to represent the tribe of Ephraim.
When the spies returned from their assignment, Joshua and Caleb gave a good report of the land and its inhabitants. The other ten tribal leaders declared that the land could not be conquered while Joshua and Caleb stood fast and were exempted from the resulting curse that God pronounced upon the adults because of their unbelief. Joshua stood firm in his support for Moses when the people cursed him for not having water, for wandering in the wilderness and in the rebellion caused by Korah.
It was the challenge of a lifetime after Moses' death to step up to the position of leading the Israelites. There was a burden that came with the mantle of leadership. Joshua must have asked God for the same anointing as Moses. It is important to always stay faithful in the position where God has placed you in this life and not to deviate from it. That is the one of the most important aspects of Joshua's life. Please join me this Sunday as we dig deep into this message and study the life of Joshua.
Print out the sermon outline and let's examine the Scriptures this Sunday morning at 9:00 AM PST.

Yours in Christ,

Pastor John S. Torell

---