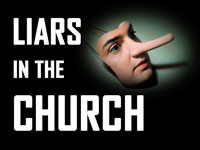 Deceit and dishonesty comes naturally because it is part of the sinful nature of mankind. Every nation on earth has laws against perjury to hold people accountable because lying comes effortlessly and is just as natural as eating food. This is to be expected from people who have not been born again but Christians have a spirit from God that wants them to obey the Lordís commandments. So why is there so much lying happening in churches?
The apostolic church was only a few months old when Ananias and Sapphira decided to sell some of their property and give it to the apostles. This couple had been saved, baptized in water and in the Holy Spirit and their actions up to this point were befitting Godís commandments.
The custom in the church at this time for members who had excess property to sell some of it and give the entire sum to the apostles to be used in the church to take care of the poor. People who did this received great status in the church and people held them in great esteem. Greed was the door that gave the Devil the opportunity to deceive this couple. They wanted the recognition, but did not part with all the money from the sale of their property. So they decided withhold part of the sale and pretend the amount they were giving was the full amount. The Holy Spirit alerted the apostle Peter to the scheme, and when confronted, they both lied and were killed instantly by the Lord.
How does this affect us today? Well, the early church was filled with fear and respect for the Lord and His commandments. This example made them walk the straight and narrow path but this is not the case with the church today. Fortunately, God is not killing Christians who are lying but the end result is a spiritually weak modern church.
We already know what thinks about lying based upon the fact that there is a prohibition against it in the Ten Commandments and in this message I want to further expound what God thinks about lying and how Christians can have the victory over the deceit and dishonesty that comes so naturally to mankind. I will share my personal story of how I was set free from this evil second nature when I came to Christ. Lying is a sin and it is important to root it out from our lives. This is not a popular topic, but letís face, when is sin ever a popular topic? However, if we want to have spiritual power, it is necessary to walk in the light with the Lord Jesus Christ!
Print out the sermon outline and let's examine the Scriptures this Sunday morning at 9:00 AM PST.

Yours in Christ,

Pastor John S. Torell
---