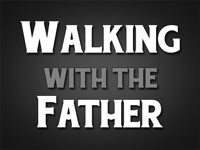 Very few Christians walk securely with our Heavenly Father because of soul damage from fathers and mothers who were unable to give the love and emotional nourishment that a child needs growing up in order to become secure and happy. In this message, I want to share how you can have a wonderful walk with Jesus and God the Father.
God the Father desires to have a relationship with each of His children whereas Satan creates religious systems that leads nowhere and places people in bondage. The world's religions have rigid belief systems that require members to please the "god of the organization" and its leadership. Our Heavenly Father's only requirement is for a person to repent and receive Jesus as his Lord and Savior. This born again experience transfers a person from the kingdom of Satan into the kingdom of God.
In reading the New Testament, you will find that Jesus did not create a system of mandatory rules and regulations that must be followed as a prerequisite to be saved. The only requirement Jesus imposed was that people would repent of their sins and obey His spiritual laws. This is the reason Jesus said that His yoke was easy and His burden was light. Our Heavenly Father knew that we could not be perfect and has offered redemption if we are willing to confess ours sins and be willing to change our lifestyle and not repeat the same sin over and over. We are told in the Bible that God will abundantly pardon and forgive His children when they repent.
Are you bound by heavy burdens that people have placed on you? Do you struggle with rigid rules and regulations that must be kept in order to keep your salvation? Then this message is for you! There is no pressure or stress when you are walking with God the Father. You will be in total happiness and are able to stay true because you are assured of His infinite love.
Print out the sermon outline and let's examine the Scriptures this Sunday morning at 9:00 AM PST.

Yours in Christ,

Pastor John S. Torell

---